As we are flying through 2019, I thought today I would spend some time revealing to you some of the very highest valued progressive jackpots that have been won on online slot machines so far this year, for you will be amazed at just how often millionaires are made thanks to online slot machines.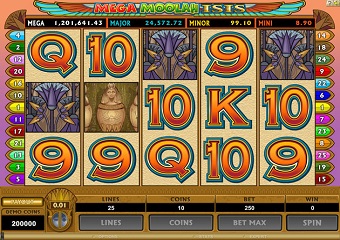 Keep in mind though that even though some of the following slot machine jackpots are life changing their values, in fact they all are, the chance of you winning one are very low, but the only way you will have a chance of winning such a jackpot is of course to play the slot machines offering them.
Before I enlighten you on the biggest progressive slot jackpots that have been won so far this year in 2019, do also consider expanding your knowledge of playing slot machines by reading some of my ever growing range of slot machine playing guess and articles such as my guide on the evolution of slot machines or my article that looks at what happens to old slot machines and even my guide on how to get a slot machine license.
Some other guides and articles that I do feel will be of interest to many of your slot players out there are the one that answers the question what slots can I play for pennies and my guide to free slot games with bonus rounds no download and one that looks at how to win on slot machines every time and whether that is actually possible.
Most Recently Won Progressive Jackpots
A couple of mega sized progressive slot jackpots have been won so far this month, with €4,187,343 having been won on Friday the 15th of November, and the slot that did award one very lucky player with that jackpot was the Mega Fortune slot.
One UK based player did walk off with a huge jackpot of some £2,772,244 on Friday the 8th of November, and it was on the ever-popular Mega Moolah slot from Microgaming that player had that life changing jackpot win.
In October 2019, three huge jackpot also got awarded to online slot players with the Arabian Nights slot paying out a mind blowing €1,422,497 on Saturday the 26th of October, and ten days before that jackpot was won a player bagged a whopping £3,557,977 the Mega Moolah slot and another player won some £1,305,147 on the 1st of October 2019 whilst playing the Mega Jackpots slot too.
The Mega Moolah slot jackpot also paid out twice during September for on the 30th of that month a player won some £4,444,827 and back on the 5th of that month another luck player also won some £4,745,675 via its randomly warded Mega Moolah wheel spinning bonus game.
The Microgaming designed Major Millions slot also paid out a huge jackpot of some £1,376,116 on Tuesday the 24th of September and it was the turn of the Jackpot Giant slot game on Tuesday the 4th of September to pay-out and the winner of that jackpot will be smiling all the way to the back with the €2,464,569 jackpot they won that day.
In August the Major Millions slot from Microgaming also paid out some £1,870,383to one player and two other massive jackpots were also won that month those being the Mega Moolah slot on which a player bagged a mind blowing £5,955,759 and the Mega Fortune slot form NetEnt also paid out a jackpot worth some €3,481,212         to back on the 1st day of that month.
The Hall of God slot paid a jackpot worth some €6,069,363 in July and the Mega Moolah slot also paid out another jackpot this time worth some £3,033,400 in July too, and the Mega Jackpot slot paid out £1,300,785 and £1,122,555 on the 12th and 9th of July respectively.
More Huge Slot Game Jackpots Won in 2019
You just never know when a progressive jackpot is going to get won and some other jackpot that players were lucky enough to win earlier in the year include some won in May which included €1,692,965 won on the Jackpot Giant slot, the Mega Moolah paid out twice that month with two jackpots being paid out to players valued at £5,547,023 and £8,164,154 and on the first day of May a jackpot worth some €2,531,858 was also won on the NetEnt designed Mega Fortune slot game too.
In March of this year the Arabian Night slot paid out a jackpot worth some €1,352,147 and two players playing the Mega Moolah slot won £3,306,644 and £12,944,902 and the Mega Fortune kept up to its reputation of being a huge paying slot game by awarding another jackpot this time of some €3,542,004 to another very lucky slot player.
As for what jackpots were won in February this year, well just one slot awarded a jackpot wroth over £1million online and that slot was Microgaming Major Millions which paid out to one lucky player a whopping jackpot worth some £1,491,543.
In January of 2019 three big jackpots were awarded and they include a truly enormous jackpot worth £20,058,437 paid out by the Mega Moolah slot, another jackpot this time one valued at some £1,413,764 was won on the Mega Jackpots slot and another players won a huge amount of cash whilst player the Major Millions slot and that jackpot was valued at some £1,784,454.
One thing to point out about playing Microgaming progressive jackpot awarding slot machines online or on a mobile device, is that if you are every enough to win a progressive jackpot, Microgaming guarantee to pay you out that jackpot in full and via one single lump sum pay-out too, which is always good to know.