Mobile Slots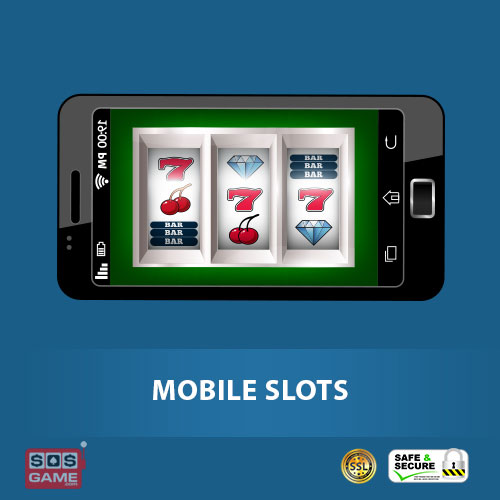 Up until the last decade or so, slots were these heavy, bulky machines that made a lot of noise, and you could play them only at casino houses.
However, with the rapid development in mobile technology over the last several years, people can now enjoy playing these fun casino games on their mobile devices.
In this article, we will explain all there is to know about mobile slots and the ways in which you can play them anywhere and at any time.



Best Free Or Real Money Mobile Apps To Play Slot Games
Free to Play Mobile Slots
What Are Mobile Slots?
Mobile slots are video slot games that you can play using a smartphone, tablet, or any other state-of-the-art mobile device. Ever since online casinos started to appear in the mid-1990s, people could play slot games on their computers. When mobile phones reached a point where they became a small computer that can fit into your pocket, slot developers have started to make their games so that they can be compatible with smaller screens.
Today, almost any online slot game can be played on a mobile device. There are tens of thousands of video slots that you can find on the web, so you will have plenty of games to choose from. If you're new to this type of gambling you should continue reading, as this article will explain how to play slots on your mobile and what kind of devices support these types of games.
How to Play Mobile Slots?
You can enjoy slots in two different ways — for free or for real money. Free slots can be found on online casinos, but they can also be played on websites which do not offer any form of gambling. Usually, you won't be required to register on a site in order to play a free slot game.
Playing for real money, on the other hand, requires you to create an account with an online casino operator. You will need to provide the operator with your full name, residential address, contact information, banking details, and more. After you sign up, you can choose between different mobile slots on that website. A great online casino will have over 100 different slot titles that you can play.
There are two ways in which you can access a casino site while using your mobile device. You can go straight to the mobile browser and sign up from there. However, some casinos also offer their own mobile apps, which is the preferred option for many players. The apps are much better adapted to mobile devices and they provide an easier way for browsing an online casino. However, it's your own choice, so pick the option that suits you the most.
Whether you play at a casino, on a desktop computer, or through your mobile phone, the rules of a specific slot stay the same regardless of the device you're using. However, some slots offer bonus games/rounds that are accessible only to mobile users, but slots of this type are rare.
One important thing with online mobile slots is that they require a stable Internet connection. Since you will probably play through a Wi-Fi network, make sure that it's fast enough so your game doesn't get interrupted.
What Devices Should Be Used for Playing Mobile Slots?
When it comes to compatibility, almost any modern mobile device can be used for playing mobile slots. These games can be accessed via different kinds of smartphones and tablets.
Smartphones
Whether you use an Android or an iPhone, chances are that you won't have any issues with loading and playing a mobile slot game. Some apps require the newer version of Android and iOS systems, so make sure to check which casino apps and games are compatible with your phone.
Tablets
Tablets are probably the most practical devices for playing mobile slots. You will have a larger screen, and it would feel like you're holding an actual slot machine in your hands. Gamblers love playing mobile slots with their iPads, but you can use many different tablet brands for spinning the reels.
Mobile Slot Bonuses
Almost every online casino in the world offers bonuses to its players. Some of them even have special offers for mobile users. Try to find a casino that has some kind of a mobile bonus so you can have an advantage when playing their mobile slots.
The best type of mobile slot bonus comes in the form of free spins. Here, you will usually have 10, 20, or more free spins for a particular game on a casino website once you make your first deposit there. This is an excellent chance for you to earn some money while playing for "free".
Apart from these bonuses, mobile players can also use other bonuses that a certain website offers. So, as long as you meet the requirements, you will be able to enjoy bonuses on your mobile device in the same way you would while playing on a desktop computer.
The Advantages of Playing Mobile Slots
Apart from being able to enjoy special bonuses, playing video slots on mobile devices has some other advantages as well.
The biggest advantage is the fact that mobile slots can be played anywhere. When you're playing on a desktop computer, you are limited to playing casino games at home. Mobile slots, on the other hand, can be played anytime and anywhere. Apart from being able to play them from the comfort of your couch, you can also spin the reels when you're taking a break from work, sitting in a coffee house, traveling, etc. Sure, you can bring your laptop anywhere you like as well, but it's still a bit of a hassle.
In order to stimulate mobile gaming, some operators offer slot games which are exclusive to mobile users. So, as a mobile player, you could have a bigger choice of games on certain websites, which is certainly a big advantage.