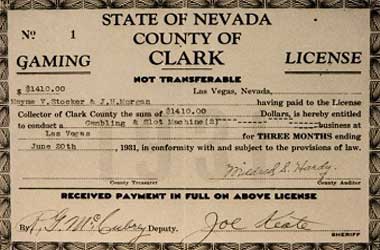 Being such a very highly regulated industry, when it comes to laws and regulations surrounding gambling, there are many things that casino operators and those working in such venues must adhere to, when it comes to operating their slot machines and gaming tables legally.
Many countries of the world will have one or more Gambling Commissions and Gaming Authorities that are tasked with overseeing the day to day operation of land based and online and mobile casinos based within their jurisdiction.
Most such Commissions and Authorities will require any gaming machine and often the personnel that work in a casino or other gambling venue to apply for and then be granted a gambling license to be allowed to be placed or work in such a venue, and as such I will be looking at how to get a slot machine license and some other licenses in the following guide.
Individual Slot Machine Licenses
It may be the case that each individual slot machine is going to have to have its own gambling license, rather than being covered by a casinos general gambling license, and when each individual slot machine requires a license often it is required to be displayed on the slot machine.
It can be and often is a very expensive thing to do, licensing slot machines, and the license alone can be very expensive and then there are of course taxes to be paid on the income generated and the cost of the slot machines does need to be taken into account before a slot machine operator can count up any profit they have made.
Some people have, over the years tried to operate unlicensed slot machines in various different venues, however what usually happens when they do so is that a customer who has played such an unlicensed slot machine but lost when doing so will inform the police of gaming authorities about those illegal gaming machine.
But at the end of the day there are always going to be people who will try and operate slot machines and many other types of gaming devices illegally and try and get away with doing so for as long as they possibly can do.
Slot Machine Personnel Licenses
Some Gaming Commissions require that anybody that works with slot machines obtain personal gaming license, and as such that is something that you will need to be aware of if you do ever want to work in the gambling industry.
What will happen when you apply for such a license is that background checks will be made on you, to ensure that you are of good character, for at the end of the day no casino is going to want to have a hardened criminal and one with a long criminal record having access to their gaming machines.
It may also be the case that if you apply for a personal gaming license then you will need to have some qualifications regarding the game you wish to operate or work with, and there are now many training centres and even colleges and universities that do offer slot machine related courses to their students.
The cost of obtaining a personal gambling license can and will vary, depending on where you apply for one, but often a casino that you have applied for a job from may sponsor you and pay for your gaming license or pay a percentage of the cost of it.
All Casinos Must Be Licensed Too
It is not only individual gaming machines and slot machines that will require a license, for the actual property that they are located in is also going to have to have a full license, too and it is not easy obtaining original planning permission and then a gaming license these days.
However, when you do play in a licensed casino or any online or mobile casino site or app that is fully licensed then you are going to have the protection of the licensing authority, who are tasked with ensuring that their licenses venues , site sand apps are run and operated within the law.
As such that does of course mean that you are always going to have access to fair and random slot machines and other games of chance when you play such a site or venue a visit, and that is something that all slot players and gamblers in general are going to want to have the peace in mind of knowing of course.
If you do ever experience a problem playing slot machines in any licensed premises, then if the casino employees are unwilling or unable to address your problem or concerns you should contact their gaming license issuer and seek redress through them.
Overseeing the Fairness of Slot Machines and Casinos
A licensed casino is going to be run and operated to the very highest of standards, and their leaning authority will always make sure of that.
Each licensed casinos no matter where you choose to visit either in person or online should also have some form of player protection scheme in place and a responsible gambling policy too.
That means that if you want to set your own gambling limits then you should be offered the ability of doing just that when gambling online or on any type of mobile device, and if you have any gambling problems then help and support should be offered to you.
Also keep in mind that there are many different promotional offers available to gamblers these days, and there will be plenty of such offers, deals and plenty of bonuses coming your way too if it is licensed slot machines that you are eager to get stuck into playing for real money, so always be prepared to track down and make use of the every highest valued ones is my advice.