I have tried to answer as many unique and different questions related to playing slot machines throughout this website as I can do, and as such please do make sure that you have a good look around this website if you do have any questions related to any type of slot machine, as you are likely to find the answers to your questions when you do so.
I just know though that many slot players are going to have lots of questions related to the pay-out percentages that all slot machines have been designed to return to players over their long term play, and one aspect of playing slot games anywhere is that each one could have a completely different pay-out percentage than other slot machines.
Even if you do come across two slot machines for example when playing in land based casinos, that are the exact same slot machine, that doesn't mean they will both have been set with the both long term expected pay-out percentage, as land based slot machines operators can and often do set their pay-out percentages to different amounts.
However, in most cases if and when you do play online or mobile slot machines you will find the long term pay-out percentages are the same no matter where you chose to play those slot games, so at least you will have some idea of how much of your stake money you will get paid out back to you over the long term when playing in those two playing environments when you look up the RTP's of each slot.
Even though you may feel that you know everything there is to know about playing slot machines, there is always going to be new slot machines and new slot game features  and playing structures and formats that are attached to brand new and recently launched slot machines.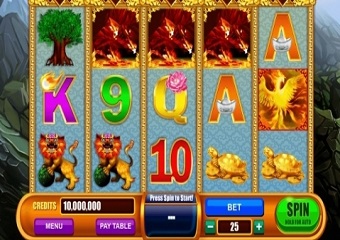 So with that in mind, and to of course keep you fully up to date with all new slot games such as the slots with the new split symbols I have compiled plenty of slot machine and slot game playing guides throughout this websites that you should read through to help you learn even more about playing slot machines in any playing environment.
You could for example be interested in finding out just which slots have the most reel symbols and if so then I have a guide on that very topic that I invite you to read through as there can be additional fun and excitement to be had by playing slot games offering plenty of unique and never seen before reel symbols.
I would also advise you to learn more about linked reel symbols as those slot machines are great fun to play and will ensure you always have plenty of additional opportunities of winning big when you are playing then, and do also make a point of learning just what are colossal reel symbols are and how they can increase your chances of winning big when playing slot machines too.
There are also plenty of other reel symbols and my stacked reel symbols explained guide will give you an insight and an overview of how those symbols work and operate too, so as you can see there is a lot to learn about playing slot machines in any playing environment, much more so when you do set about playing them online or via a mobile device too.
Play a Wide Variety of Slot Machines
With low stake and high-stake slot machines being available to you, and with there also being plenty of slot machines offering a low, medium of even a high variance playing structure and format you do have plenty of different slots to play online.
So first of all work out just what stake levels you can afford to play slot games for and then pick out the variance you want to have in play on the slots that you do like the look of and do fancy playing, and then set about working out just which slot machines have the highest possible pay-out percentages.
When it comes to the exact RTP's that slot machines have been set to return to players I have found that it is often the progressive slot machines that do tend to offer the very lowest of pay-out percentages, and that is due to a percentage of players stakes being used to feed the jackpot pools.
As such unless you are ever lucky enough to win one of the progressive jackpots attached to such slot machines then you may find the actual pay-out percentages that you to achieve when playing such slots can be very low on each session you have.
Most slot machines will have been set to return to players between 94 percent and 96 percent, and as such it should always be those slot games that have a higher pay-out percentage than 96% than you should be looking to play.
But do please be aware that on each of the individual slot game reviews found throughout this website you will find the exact long term RTP that each of those slot machines have been set return to players over the long term.
Resources
It is important to note that there are some casino sites available online that are not licensed and are not regulated either, and you never want to take any risks when playing slot machines regarding the fairness and randomness of the slots you will be offered at any casino site.
There are slot machines in many different land based venues, however it is always worth noting that the pay-out percentages attached to some slot machines located in certain places can be very low and those slots will not offer players any value, and they will be slot machines that could eat up even the very highest of players bankrolls too.