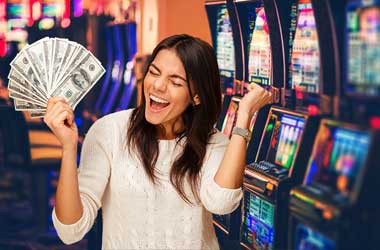 With the one main reason being that slot machine players want to win and win big being as to why many gamblers visiting a land based casinos or logging onto an online casino, do tend to make a beeline to play slot machines, then players should always be aware of ways that they can maximize their winning potential when playing any type of slot machines.
That is what I am going to be looking at throughout the following guide, and by reading through this guide and both making a note of and also adopting some of the playing strategies I will be mentioning and revealing to you throughout it, you will always then have the best possible chances of winning.
But at the end of the day it is important for you to be aware of the fact that slot machines by their very design are 100% random gaming machines and as such no matter what strategies you do choose to adopt when playing them there can never be any guarantees that you are going to end a slot machine playing session with more money than you started playing with.
However, having said that there are some ways that you will be able to improve your overall chances of winning more than you usually would when playing slot machines, and I will be looking into them and explaining why you could in more below, so sit back and read on and digest all of the following tips, hints and slot playing strategies and methods.
The Rules for Winning Big When Playing Slot Machines
The structure of each slot machine can and will vary, and as such you will need to first discover whether any slot machines you do fancy getting stuck into playing have what are known as optional pay-lines or whether they have fixed pay-lines.
When playing optional pay-line slots for example it is important that you are aware of the fact that by activating every single pay-line on such slots then you are never going to miss out on a winning spins, which is something that may happen if you do not put into play all of the pay-lines a slot machine has to offer.
Some players will choose to play optional pay-line slots with just a small amount of the available pay-lines in live play on each spin they play off but will also increase the coin values and number of coins they are playing on those activated pay-lines.
Whilst that playing strategy can sometimes pay off if they spin in a high valued winning combination on their activated pay-lines, that may not always be the case, and they could spin in a  high paying combination on a non-activated pay-line, and as such will not be awarded with that winning pay-out.
There are some slot machines that have above average pay-out percentages, and those are without a shadow of a doubt the slot machines that you should always be hunting around for. Many casinos site now list each of the long term expected pay-out percentages on their respective websites, so looking up that information and discover which slots tend to offer the best paybacks shouldn't be difficult for any slot player.
When you do play real money slots online keep in mind that bonuses and other promotional offers will be readily available at most casino sites, however the way to determine whether any of them are going to be worth claiming is by reading through their associated bonus play rules and the terms and conditions attached to such bonuses too.
Many slot players are going to be very eager to play progressive jackpot awarding slot machines, but make a point of finding out when such slots tend to award their jackpots as that way you can start playing them when their jackpots are higher in value than they usually are, which is when most slot machines tend to pay-out their jackpots.
It is important that you are aware of the risks attached to playing any slot machines, and therefore you need to know when to stop playing, either when things are not going your way or when you are winning, and that is why a good and well thought out money management system should always be adopted by slot players too.
You will find plenty of brand new slot machines that have been recently launched, and one final thing to be aware of is that when playing new slots in a  land based casino the RTP's may be set slightly higher when those slots are bedding in and are new to a gaming floor, but that is not always the case.
Overview of the Best Slot Playing Strategies
There are six main rules that you should ensure you never fall foul of when it comes to you having the best chances of winning big and more than you usually would when playing any type of slot machine, and below you will find an overview of each of them.
Play Maximum Pay-Lines
Look for the Slots with High RTP's
Consider Using Slot and Casino Bonuses
Track Values of Progressive Slot Jackpots
Know When to Stop Playing
New Slots May Be Set to Pay-Out More
No matter where you choose to play slot machines though, do ensure that above all else you always have an enjoyable time when playing and always make sure that you always gamble responsibly too and within your means too.
Resources
Slot players often hear about slot jackpots that have been won recently by other players and may get the urge to play the same slot as the jackpots were won on, however never chase such jackpots, and always be aware of the high risk nature of high variance slots too, as they are very risky slots to play compared to low and medium variance slots.