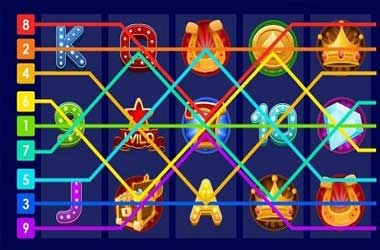 Launching an online or mobile slot machines to play on any type of electronic device is going to be just as exciting as when you choose to play them in a land based casino, for you are going to come across a very large range of slot machines, each of which have been designed in their own unique way.
However, whilst the themes, pay-outs and bonus games and bonus features can and will vary on different slot machines, there are some things that may not change, or many have only a limited number of different variants.
Take for example pay-lines, when you do play some slot game you have the choice of putting into live play and activated as many different pay-lines the slot has on offer or as few of them as you like, but there are some slot games that do not allow you to configure their pay-lines, and those slots known as fixed pay-line slots are what I will be taking a closer look at today.
What is Fixed Pay-Line Slots?
A fixed pay-line slot is simply a type of slot machine that has been designed in such a way that players have no control what so ever over the number of pay-lines they can activated on each single spin they choose to play off.
As such, if you for example come across a 20 fixed pay-line slot machine then when playing that slot each time you lick into the spin button to send the reels spinning you are going to have all twenty of that slot machines pay-lines activated and in play.
What you will however be pleased to learn is that fixed pay-line slot games in general, will offer players a range of different coin value settings and will also allow players to play one or more coins on each fixed pay-line too.
So at the end of the day you are always going to be able to play such slot machines in such a way that you can affords to play them, so if you do wish to play fixed pay-line slot machines or slot games then always make a point of setting the stake levels to suit your own personal gambling budget.
All Pays Slot Machine Design
A new type of slot machines that you are bound to come cross no matter where you choose to play slot games these days are a range of slots which offer something known as an All Pays type of playing structure and format.
When you play such slot machines you no longer have to worry about which is the best way to play them, for every single way that is possible for forming a winning combination via the in view reel symbols will be covered on each spin of those slot machines that you choose to play off.
https://youtu.be/aAAr92babWw
The number of reels and the number of in view reel symbols will ultimately determine just how many ways to win you will have in play when playing an All Ways or All Pays slot machine as they are known, but the most commonly designed ones offer players a 243 ways to win playing format and structure.
One of the main attractions for slot players of playing or example a 243 ways to win All Pays slot machine is that they do not need to wager 243 coins per spin, instead they wager a much small increment of coins which could be for example 25, 30, 50 or even 75 coins per spin, so they are very cost effective fixed pay-lines slot games to play.
New Cluster Pays Slot Machines
A new type of slot machine playing structure is going to be on offer to you on some brand-new slot games, and they are a type of slot on which you will no longer need to form winning combinations on any pay-lines!
Those new slot machines are collectively known as Cluster Pays slot, and they may have some much longer reel strips and in view reel symbol and could even come with more than five standards reels too, and they are very exciting slots to play too.
When playing a Cluster Pays slot you will be offered, by way of the staking options a range of coin increments at which you can set off each and every spin to play, and there will be a good mix of low to very high staking options too.
The way in which Cluster Pays slot games work and operate though is that players simply needs to spin in a cluster of matching reel symbols anywhere on the screen, and the bigger the cluster of matching symbols is the more players then stand to win.
Optional Pay-Line Slot Machines
The older styled slot machines and many of the newer ones too will come with an optional pay-line playing structure, and when you set about playing those types of slot machines in absolutely any playing environment you have a choice as to just how many pay-lines you do send into live play.
There is of course the requirement to send a minimum of one spin into live play when playing any slot machines, and always do keep in mind that the more pay-lines you activate the more chance you will have of forming a winning combination.
Just make sure though that if you do decide to play a range of different slots that you try some of them that do offer a fixed pay-line playing format and structure as you may just warm to them and enjoy playing them, for they can be some of the most exciting and highest paying slot games with some luck in playing any of them.