When you want to chance your arm and play a progressive slot machine, in the hope of course of winning its ever-rising jackpot, you do have hundreds of them available online, however some of them do get much more play time that others.
Today I want to introduce you to the most played and most popular online progressive slots which players always seem to make a beeline to play.
Be aware though that there are always going to be several different reasons why some real money progressive slots are most more popular than others, and I will also be giving you the reasons why those listed below do get a lot of play time from players.
You may find that you are not allowed to play some slot machines from different slot game providers due to where you are based in the world, so always do check if the casino sites you are thinking of playing progressive slot games at will allow you to sign up and play their games before you set about doing so.
Mega Fortune Slot
If you enjoy playing slot machine designed by NetEnt, then you really owe it to yourself to play their Mega Fortune slot, for it does have a mega sized jackpot up for grabs that has a huge valued reset seed value.
As such it doesn't matter when you choose to play it you always do have the chance of winning big. However, the way that you win the progressive jackpot is by triggering its unique bonus game.
That bonus game will see you having to play off a wheel spinning type of bonus game, which makes a pleasant surprise rather than you having to line up a set of matching jackpot paying reel symbols.
Mega Moolah Slot
Another popular slot machine with both online and mobile slot players is the Microgaming designed slot that goes by the name of the Mega Moolah slot.
In fact, that slot machine is part of a series of slots that all share the same jackpot pools, however each individual slot in that series come with their own unique themes, bonus games and play structures.
What players do enjoy about playing that slot is that at random, and at the end of any base game spin, a randomly awarded bonus game can be triggered, known as the Mega Moolah bonus game.
Once triggered you then must spin a bonus wheel and by doing so you are guaranteed of winning one of the four live progressive jackpots attached to each slot.
Cash Splash Slot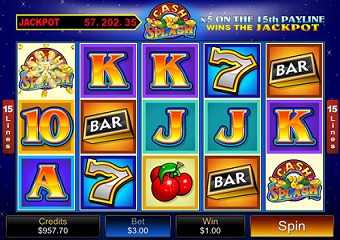 Another Microgaming designed slot machine which is in fact one of the oldest online progressive slot games is the Cash Splash slot, the original version of that slot is a simple three reel slot on which players have to wager 3.00 per spin to have any chance of winning its progressive jackpot.
Microgaming have however launched a second slot in that series, and as such the second slot you can play which shares the same jackpot pool is a 15 pay line video slot, but once again you are required to play for stakes of 3.00 per spin to have any chance of winning its progressive jackpot.
By aware that the currency you are playing at will be the one that the progressive jackpot is valued at, and over the years a huge number of players have won the Cash Slot progressive jackpot playing those slots.
Age of the Gods Slot
Playtech are a long established casino and slot game designer, and they too have more than enough progressive slot machines available on both their online and mobile gaming platforms, and as such you will have plenty of them on offer to you if you do decide to play at any casino site using their range of slot games.
However, as for the most exciting progressive slots from Playtech, you really should be checking out their Age of Gods slot, there are now in fact several slots in the series of Age of Gods slot and as such you can play several of them, each of which are going to deliver a completely different type of slot playing experience.
It is of course you decision as to whether you do want to play progressive slot machines online rather than just standard slots which have fixed coin jackpots, but many of them do have life changing jackpots attached to them which any player can win when they are playing them. So do always consider giving at the very least one or two of them an occasional spin.
Resources
You can of course also play progressive slot machines in land based casinos, however what you tend to find when playing such slots in those venues is that the pay-out percentages on them can be set rather low and as such you may not get as much play time when playing them in such venues due to those very low RTP;s.
However, whenever you do play a progressive slot machine you do always have a chance of winning a life changing progressive slot machines jackpot, but also be aware that you may find when winning big you may find that the casino will pay you in equal annual instalments, rather than in one single lump sum payment.
Most mega sized jackpot winners who won big when playing a progressive slot machine online will be able to cash out their winnings via a single lump sum payment rather then wait for their jackpots to be drop fed to them over many years.
Do feel free to have a good look around this website as there are plenty of free play demo mode versions of many progressive slot machines that you ate more than welcome to try out and play at no risk to discover how they do all play and pay.