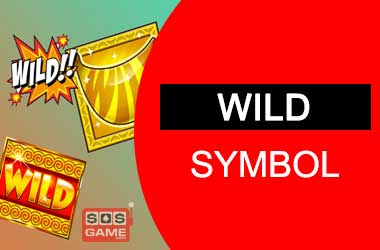 It will be very unusual for you to come across slot machines that do not have wild symbols attached to their reels these days, for many game designers have realised that many players do enjoy spinning in those types of reel symbols for what they will tend to do is to help player form additional winning combinations that you wouldn't usually form.
They do that due to the simple fact that wild symbols have been designed to stand in for most other reel symbols, so spinning in one or more of them alongside other matching reel symbols on an activated pay-line that you have chosen to put into play will see you being awarded with a  winning pay-out thanks to those symbols.
However, as you are about to find out, there are nowadays a huge number of wild symbols that not only stand in for other reel symbols but can also award additional and built-in features too, so please do read on for you are likely to come across lots of those extra types of reel symbols no matter where you chose to play slot machines these days.
Plus, you are also going to find that you can play a huge number of free play demo mode slot machines directly ion this website that do have all manner of weird and wonderful wild symbols attached to their reels too, so make sure you set about giving some of them a whirl directly from our website, to see how they are play and pay too.
Types of Wild Symbols
A basic or standard wild symbol is going to stand in for most other reel symbols found listed on a slot machines pay table. However, do be aware that they rarely stand in for scatter symbols or bonus symbols, but there will be some wild symbols that do or could even act at bonus game triggering symbols too.
The next type of wild symbol that was invented was a wild multiplier symbol, and those symbols not only stand in for other symbols but when they help you form one or more winning combinations, they will then boost the value of those pay-outs by their respective multiplier value.
Expanding wild symbols
are like standard reel symbols, in as much as they are just one symbol high on the reel strips, that is until the spin into view on any in view reel position on a slot machine screen and when they do spin in they then expand to cover all of those in view reel positions on the reels they have spun in on.
Walking wild symbols, can help you form multiplier winning combinations on multiple base game or bonus game spins, for once they have spun in on either type of spin they will then move across the screen, either one position to the left or one position to the right no each consecutive spin you play off, until they vanish from view.
Random wild symbols can be added to different positions on the screen completely at random and as such you rarely if ever have any idea of just how many if them will be added to the screen until such a time that the last one does appear.
Exploding wild symbols are yet another type of reel symbol, and when they spin in, they will then explode and will then fire out additional wild symbols which will be added to random position on the slot games screen.
It is also worth noting that some slot machines may also have a bonus game on which when triggered additional wild symbols are guaranteed to be added to the screen, and several slot machines from Microgaming do boast such a bonus game.
Some of those slots include the Immortal Romance slot and their Thunderstruck II slot games for example, for at random when you click on the spin button to send the reels spinning a wild reels bonus game could be awarded to you.
When that bonus game is triggered the slot game will then randomly select one to five of the reels and will turn them completely wild, and by getting all five reels turning wild you will then go on to form a mind blowing 243 jackpot paying winning combinations guaranteed.
Most Sought After Wild Symbols
When it comes to wild symbols, well there is no doubt that you are going to come cross quite a lot of them, however do try and look out for slot machines that offer any of the wild symbols listed below, especially the walking wild and random wild symbols, as those slots do tend to offer some mega sized winning pay-outs thanks to those wild symbols.
Expanding Wild Symbols
Walking Wild Symbols
Wild Multipliers
Random Wilds
Exploding Wilds
Many slots may also have wild multiplier symbols that can come into play during the base game or when a free spins bonus game has been triggered, and some slots will even multiply the values of each wild multiplier together when two or more of them have spun in and have helped you form any number of winning combinations.
Resources
Try and find out more about the legalities of playing slot machines in different countries as that way you will find out which casinos are licensed in your country of residence and just which Gambling Commissions ensure the slot machines at those sites are fair and random too.