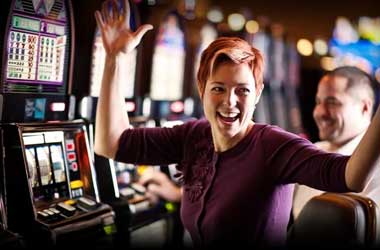 You may never have played slot machines, and if you haven't but you are about to start doing so, then you are going to have to go on a very sharp learning curve, for there really is a lot to learn about playing those ever popular gaming machines in any playing environment.
This guide is going to help point you in the right direction of just which slot machines are going to be ideal ones for first time players, however I would also advise you to read through and digest many of my other slot machine playing guides.
By doing so you are going to learn about the slot games with the best free spins features and there are several interesting articles such as the 6 slot machine cheats that changed the casino industry that will certainly give you an insight into the rather seedy world of slot machines too.
Do also find out all you need to know about slots betting and that will see you having to learn about the slot games are the best games to play in any casino and you may have some slot playing questions such as are slot machine rigged or fixed and how to maximize your winning potential playing slots and if so I have plenty of guides that will help you learn about those aspects of playing slot machines too.
Be aware though, that if you haven't yet played slot machines but are about to do so then you will find they are completely random games of chance, and as such there are no special skills or talents needed to learn how to play them so you can set about playing any of the slot machines categories listed below and will have plenty of fun when playing any of them.
Basic Playing Slot Machines
One type of slot machine that will give you a very good introduction to playing slot machines are classic slot machines, those being the ones that have just three reels and only have one single pay-line spread over those three reels too.
What you will find when playing those types of basic playing slots is that there will be no bonus games or bonus features attached or on offer on them so you can play off a lot of spins in a very small space of time with nothing complicated occurring when you are playing them.
But one thing to be aware of when playing those types of slot machines is that you can often find that the jackpot pay-out when playing or maximum coins per spin  are boosted in value, so always look up the pay-out of the jackpots of such slots and if it you find  slot with an enhanced jackpot then always play maximum coins spins.
Technically Advanced Slot Machines
You will however also find  plethora of different video slot machines in any casino site or venue you choose to play on or in, and those slot machines are highly advanced and are certainly going to give you a fully rounded and very enjoyable gaming experience for sure.
Therefore, I would advise you to look through the slot machines help files or pay table before you start playing such slot machines for that way you will get a very good insight into just what you can expect when playing team.
As the bonus games on video slot machines can take quite some time to trigger and be awarded to you, what you should try and do to have a good chance of triggering them is to pick out a stake level based on your available bankroll that will allow you to play off over 100 base game spins.
For by doing so you are then going to stand a much greater chance of trigger such a bonus game when you play off a very large number of base game spins than you ever would when playing off just a small number of spins.
But at the end of the day never forget that all slot machines are of course completely random, so you could of course win big on any spin you play off, and the art to keeping your winnings rather than losing them all back is knowing when it is time to stop playing.
So always set a budget for how much you are prepared to lose as a maximum when playing slot machines, and if you do have a series of winning spins then make sure that you cash our all of some of your winnings and stop playing.
Resources
If you are new to playing slot machines, then one thing you are going to have to get used to when playing them is that you are likely to see lots of near misses when it comes to you forming winning combinations.
That is due to not all slot machines offering you every single way of forming a winning combination on the slot games sin view reel symbols, but you should always try and activate all pay-lines on any optional pay-line slots you play, as that way you will never miss out on a  winning combinations spinning in of course.
However, part of the fun and excitement of playing slot machines, is that any player could win big when playing slot machines in any playing environment, and as the end of the day it will all be down to luck and luck alone as to whether you will end up winning or not.