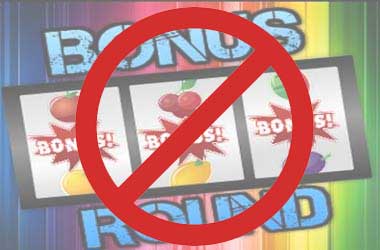 Not all video slot machines are going to have bonus games or for that matter any type of built in bonus features either, and whilst you may not fancy playing such slots online, if you are then please keep on reading for I have several of them to introduce you too, which may just be ideal slots to play one day soon.
Be aware though that some of the slot providers, much more so those that have not been in the business for very long, tend to design video slots that come jam packed with bonus games and bonus features, so you will have to look for real money slots sites such as those that offer slot games from Microgaming for example if you do fancy playing basic playing video slots online.
When selecting such slots to play however what you should be looking  out for are those that have high long term expected payout percentages, for due to the lack of any type of bonus games and/or bonus features you will want to ensure a large chunk of your stake money is return to you over the long term when playing those basic playing slots.
With all the above in mind below you are going to find the best slots that you should consider playing, when you want a fun yet basic slot playing experience, either online or on a mobile device instead.
High RTP Basic Video Slot Games
One basic video slot that you should be concreating quite a bit of your online real money slot playing activated on for sure, is the Carnaval slot, which is a great looking five video reel slot from Microgaming.
The one aspect that really does stand out about that slot game is that players are going to have some much longer slot playing session when they set about playing it, for the RTP of that slot has been set at a much higher than average figure, that being 96.94%, so I would certainly add it to your list of slots to play one day soon if you can.
Another of the many slot games from Microgaming that will be worth tracking down and play, when you want a laid back and relaxing type of slot playing experience is their Crazy Chameleons slot.
Now, that is another very basic structured slot machines so there are not going to be any bonus games or bonus features coming your way when you are playing it. However, it only has five pay-lines on offer so it will be a low stake slot to play if you do decide to keep the stake levels down low, and thanks to its long term expect pay-out percentage being 96.07% it is a very fair paying basic video slot machine too.
Some Other Basic Playing Video Slots
There are two different versions of the 5 Reel Drive slot machine available online and to mobile slot players too, the latest slot in that series is one of which free spins and four progressive jackpots can be awarded and won by players.
However, the original 5 Reel Drive slot is a very basic video slot game, and one that some players will always make a beeline to play too. Some 10,000 coins can be won when playing that slot as that is the value of the jackpot paid out when players get five of the wild symbols on any activated pay-line.
There are however only nine pay-lines on offer on that slot and for reference its long term expected RTP has been set at 96.95%, which as any experience slot player will tell you is a very impressive pay-out percentage.
One final basic playing video slot that I do know plenty of you will find appealing is the What a Hoot slot game, which has been designed as another 9 pay-line slot, however the pay-lines are optional so you can play any number of them off per spin from one to all nine of them.
96.94% is the pay-out percentage of the What a Hoot slot game and as for just how much you could win form any one single spin you play off, well its jackpot has been set at a high amount, that being some 5000 coins,, and there are both scatter symbols and wild symbols on its reels too.