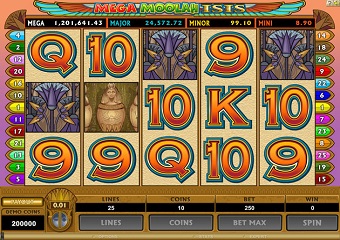 The way in which some slot machines will award a progressive jackpot, if they have of course got one or more of them attached, is by you being required to spin in a set of matching jackpot symbols on one of the pay-lines, often when playing such slots for maximum stake levels.
However, not everybody can of course afford to play slot machines for maximum stakes per spin, and that is why more and more slot game designers have chosen to design a range of slot machines on which progressive jackpots can be won, but without the need for players to play for maximum stake levels.
Not only that, but there are now plenty of different slot machines on which there is now no need for players to have to line up a set of matching jackpot symbols on a pay-line to win a progressive jackpot, for some slots give players the chance of winning a huge jackpot via some form of bonus game or bonus feature.
With that in mind, in this slot playing guide I am going to be revealing and showcasing to you a  range of slot machines all of which award their respective progressive jackpots via some type of bonus game or bonus feature, and as such the following slots have proven to be popular with players due to the way their respective jackpots can be and are won.
Randomly Awarded Bonus Games
I do know that one annoying aspect of playing some slot machines that have any form of bonus game attached to them, is that every now and then you could end up playing off hundreds and in some extreme cases thousands of base game spins before you finally are awarded with a bonus game.
In fact, even if it has cost you a small fortune playing a slot and then getting to a point in time when its bonus game has been triggered and awarded to you, there are never usually any guarantees that you are going to end up winning a sizable amount of cash from that bonus game.
That is why more and more players have started to warm to playing slot machines that can award bonus games at random, and some slot machines will also offer a randomly awarded bonus feature around on which you are guaranteed to winning one of several different sized progressive jackpots.
If those are the types of slot machines that you are very eager to play then I would invite you to look at the many different progressive slots from Microgaming, for they have designed a range of slots known as Mega Moola slots on which whenever the bonus wheel spinning round is awarded to you, then you are guaranteed of winning a progressive jackpot went that bonus game has been played off.
Types of Bonus Games That Can Award Progressive
Let me now give you an idea of just how very wide and diverse the range of bonus games that could award you with a life changing progressive jackpot can be, it is also worth noting that some slot machines are going to have more than one progressive jackpot attached to them too.
Those slots however are always going to pay-out their lower valued progressive jackpots much more regularly than they award their higher valued progressive jackpot, but the beauty of playing such slots is that you will never know when their jackpots will be paid out and won.
Pick and Win Bonus Rounds
Free Spin Feature Games
Wheel Spinning Bonus Features
Pick and Match Bonus Games
Randomly Awarded Progressive Jackpots
When playing slot machines in a free play environment be aware that some slot games will have their progressive jackpots deactivated as you are playing or free, as they are only going to be come activate when you set about playing or real money, however some slot games do have activated progressive when being played for free, but if you win one of them you will be winning demo mode credits and not real money credits of course.
Win a Progressive on a Picking Bonus Game
Another type of slot machine bonus feature game that could award you with a progressive jackpot is a pick and win styled one, for when such a bonus game has been triggered and awarded to you then you have to set about p0cikign off locations or symbols from a bonus game screen.
Most of the locations on such slots only award cash values and a set number of coins, but you should have no difficulties these days finding such a slot that could also have progressive jackpots hiding behind those locations and symbols.
I am also aware of some slot machines on which you will be awarded with a pick and match styled bonus picking game, and the aim when playing off those types of slot machine bonus games is to reveal a certain number of logos of one progressive jackpot.
When you are lucky enough to reveal the required number of progressive jackpot logo symbols when playing off a pick and match bonus game then you will be awarded with the corresponding jackpot, the value of which will of course vary.
But do keep in mind many such bonus games are pre-determined so there is certainly no skill or strategy you can adopt to increase your chance of winning big when playing such a slot as the awards you will reveal have been determined by the slot machine and are not based on which locations or symbols you pick.
Resources
A huge slot machine jackpot can be won at any time, but do also be aware of the fact that it is not only slot machines and slot games that do offer huge valued progressive jackpots, as players do have the chance of winning big when playing other casino games too.