Best Slot Games Apps for Android to play Free or Real Money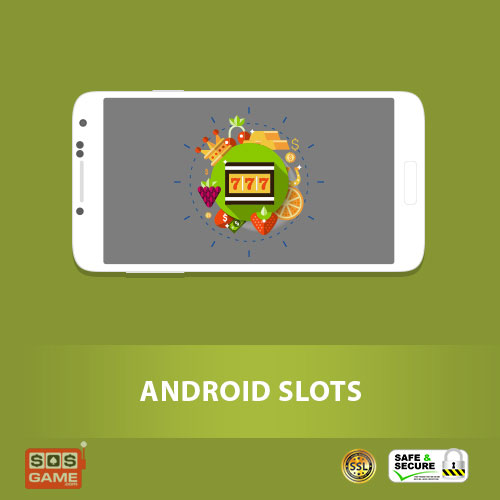 I have some good news for all you slot players out there that are lucky enough to own an Android device, and that is that there are plenty of slot and casino apps that you are going to be able to seamlessly download onto your device which have literally hundreds of different slot games for you to play.
What I would however encourage you to do at all times, is to make a point of downloading and then installing the ones that do not charge you a penny for either the app or to play those slot machines for free, as some of them will force you to pay for your free play credits!
Obviously when playing Android slots for real money you will be required to make a deposit, but you should always have the option of testing out any new slots you haven't seen or come across before for free and at no charge what so ever, until you are good and ready to play them for real money.

List of Best Android Slot Apps To Play Free or Real Money Slot Games
Free to Play Android Slots
Best Android Slots
There will of course be some slot machines that you always seem to be magically drawn towards playing, and some will become your own personal favourites very quickly too, but there are also plenty of slot games that many other players love playing time and time again too.
I have however listed five of the best Android slot below, and those are the slots which have proven to be some of the most played mobile slots, for the reasons listed below, so do try and give some of them a little bit of play time soon, as you may also enjoy playing them too.
The Starburst slot is often the one slot game that many mobile casino sites will attach their free spins offers and promotions to, and as such that particular slot does get a lot of attention from players, mainly those that have been awarded with a free set of spins for signing up to an app or mobile casino site!
It is the fact that players have a total of 81 pay-lines in playing when playing the Shogun of Time slot on each spin they play off that has made that slot a much sought after one, and with just one set increment of coins to activate to have all of those pay-lines activated it is a very cost effective slot to play too.
Thanks to sets of stacked wild symbols and a very high long term expected pay-out percentage, and with its medium variance playing structure, the Shields of the Wild Android slot is going to give you plenty of thrills and spills whenever you set about spinning its five video reels.
One of the highest variance mobile slot games that you are going to come across is the Scary Rich 3 slot game, and even when playing that slot for some tiny stake amounts, many players have bagged some truly massive winning pay-outs, which is why it is one of the top five best Android slot games currently.
With its hot and sunny theme, its 243 ways to win playing format and the fact that players have the chance of winning a whopping 227,520 coins from a single spin the Sam on the Beach slot is one of those Android slots that every player should be looking to play, and is another slot that comes highly recommended too.
Free Slots Apps for Android
By visiting the Google Play Store, you will be able to take a good long look through the list of slot games and slot apps that can be downloaded onto your Android device, but never be in too much of a rush to do so!
For with so many different apps on offer to you, what you will ideally be looking for are those that offer by far and away the most slot games, and of course the slot games that appeal to you directly.
The one defining factor that should be at the top of your checklist of wants and demands though are apps that are free of charge, for some of them may require you to have to pay a small fee to download and access them!
Also be aware, and this is quite important, that some apps will give you a set number of demo mode credits initially, and you use those free credits to play the slot you fancy playing, but once they run out you usually have to wait a certain amount of time before they are replenished.
Some slot apps however will give you the option of purchasing additional free credits without having to wait for them to be replenished for free, but no sane player is ever going to want to have to pay just to get free demo mode credits!
You may also be limited as to just how much free storage space you have on your mobile device, and as such that is when it does become very important that you carefully select the apps that are not going to take up much storage space on your Android device.
Please do however have a good look around this website for as soon as you do so you are going to come across a huge and in fact ever growing number of different slot games, many of which you can play completely free of charge from our website, so can try out several of them and make a decision as to just which ones you do want to download onto your smart phone or tablet device.
Also look out for mobile casino sites that have a free to download casino app, for when using those types of apps you are then going to have the opportunity to switching over to play any slot game you have enjoyed playing for free but in a  real money playing environment at any time.
Ultimately though it will always be your decision to make as to whether you are happy to play for free or play any mobile compatible slot games for real money, so always do keep that in mind when choosing just which app to download and install onto your Android device.
Free Slots with Bonus Rounds for Android
The more slot machines you experience playing on your smart phone or tablet device, the greater the chance you will find some that really do appeal to you the most.
But do keep in mind that slot playing should be fun and exciting, and with that in mind I actively encourage you to play plenty of slot machines and slot games on which there are bonus games and bonus features waiting to be triggered.
For it is no secret that when for example you are lucky enough to trigger a slot games bonus feature round, there is always going to be a chance that you could win some mega amounts of cash, often much more than you could ever win on the base game of such slots!
I have listed below five slot games that are famed for their unique and potentially huge paying bonus games, so do read on and make sure that you check those Android slot games out, just keep in mind though that you will never know when you are going to trigger those bonus games or just how high paying they could turn out to be, until you have been awarded with them and then pay them off!
The free spins bonus game that could be triggered when you play the Rise of Olympus slot is going to see each of the three Gods performing their Hand of God feature as your awarded free spins are playing off, and as such that bonus game  can be a quite highly volatile one which makes it an exciting one to watch being played off.
Thanks to a very regularly triggered Re-Spin feature that is attached to the Reel Talent slot game, you are probably not going to have to wait very long before it is awarded to you when playing it, and with a little bit of luck in playing it could be a huge paying one too!
The reason why I have listed the Montezuma slots on this section of this guide,, is that three or more of the scatter symbols will initially trigger a set of free spins, however those free spins can be re-triggered multiple times and when they have been you could be awarded with a huge number of them which boats some huge multiplier values too.
Spinning in a  set of matching reel symbols when playing the Gonzo's Quest will see the rolling reels bonus feature kicking in, and those symbols will then be removed from the screen to be replaced by new ones which thanks to an increasing multiplier could see you winning multiple times from a single spin!
Not all Android slots are going to be offering you sets of free spins, some of them have pick to win styled bonus games on offer, and one such slot is the Watch the Birdie slot, on which you could win some rather sizable amounts of cash dependent on just how lucky you are when playing off its pick to win bonus round!
Best Android Slot Games on Google Play
You will of course need to head over to Google Play to have the opportunity of downloading any slot games that you fancy playing on your Android device, and make no mistake about it, there will be plenty of slots for you to download, install and then get stuck into playing!
However, there are some slots that visitors to Google Play cannot resist playing, and to give you some ideas as to just which slot games they are, and why they have proven to be so popular with players below you will find details of those slots.
The Asia themed 88 Fortunes Slot is going to see you going on something of a roller coaster type of playing session, however with some massive pay-outs always possible it will be a slot you will find very exciting to play whenever you do give it a try.
Thanks to one symbol becoming a scatter symbol during the free spins feature round on the Book of Ra Deluxe Slot you will be hoping the chosen one does spin in during that bonus game for it will expand and will cover each reel its has appeared on with those symbols.
Not all players are going to want to play bonus game awarding video slots, for some players much prefer the much faster playing non-bonus game awarding slots, and if that sounds like you then please do make sure you give the Sizzling Hot Slot some play time soon, as there is no doubt in my mind you will enjoy playing it for sure!
Another slot that is going to give you a fantastic Android slot playing experience is the Walking Dead Slot, there are no prizes for guessing just which popular TV show that slot is themed around, and with its instantly recognizable cast of character reel symbols and some randomly award bonus features it is a slot most players do very quickly warm to.
It has certainly stood the test of time and the Lucky Lady's Charm Slot is a slot on which you will be hoping to spin in at least three of its scatter symbols, for that will mark the arrival of a set of free spins, and with some luck in playing them off they could re-trigger time after time, and could award a mega sized winning pay-out.
Casino Slots for Android
Wander into any land-based casino and you are guaranteed to see bank after bank of slot machines, all of which will be boasting their own unique themes, bonus games and winning pay-outs too, and often players never know which are going to be the very best slots to get stuck into playing!
The same can also be said of when you set about playing casino slots on an Android device, for most of the apps that are now available will come jam packed full of every single type of casino slot machine you could ever have hoped to play.
There are going to be classic and three reel casino slots for Android users to access and play, and those are going to be the most basic of slots you will be able to play, for they rarely if ever come with bonus games or bonus features, and as such they will also be repaid playing slots on which you will soon discover whether you have won or lost.
You may however be the type of slot player that is looking for the maximum entertainment value when playing casino slots on any type of Android device, and if that is the case then you should make a beeline to play the bonus game awarding video slots.
Ideally though, be on the lookout for those casino slots that have more than one bonus game and more than one bonus game that can be triggered, as they are certainly going to give you a fully rounded and very enjoyable playing experience.
Progressive casino slots are also going to be readily available to you when using most slot and casino apps that are fully compatible with Android devices and be aware there are plenty of different progressive Android slots available.
Some of them will offer progressive jackpots that could be awarded completely at random, and some of them award their respective jackpots via some form of bonus game or simply in the old fashioned way of you having to line up on an activated pay-line a set of matching jackpot symbols.
It can often be the case though that the pay-out percentages that are on offer on many Android casino slots will be set much higher than any slot machines that are found in land based casinos, so over your long term play you should get plenty of winning spins, and even some much longer slot playing sessions too!
Free Offline Slot Apps for Android
I am often asked whether it is possible to play slot machines on a mobile device that players have played at one time or another in a land-based casino, and the answer to that question is yes!
All the major land-based slot game designers and developers know that players do want to experience the fun and winning opportunities offered by their slot games on a mobile device, and as such they have ensured plenty of their slots are available to Android mobile device users.
Three slots have proven to be even more popular with mobile users than offline land-based slot players, and below I will quick you a quick insight into just which slots they are.
It has been around of quite some time now, however you are going to find the Golden Goddess Slot is still a popular slot with land based casino visitors and now an army of mobile slot players also play that slot regularly too.
One slot game that is themed completely around one of day time TV's most popular presenters is of course the Ellen's Road to Riches Slot, which is popular thanks to the many unique bonus games and bonus features that can be triggered when playing it.
Make sure you give the Zeus Slot some play time when you next get some spare time, for make no mistake about it, that slot is going to have you on the edge of your seat with excitement whenever you do send its five video reels into live play on any type of Android mobile device!
Free Slot Games for Android Tablets
You have a couple of ways of playing slot games on an Android tablet device, and as such please do read on to find out just what ways you can access any type of slot machine on such devices.
Downloading a slot or casino app is going to be a breeze on any Android device, and as you will find out throughout this guide, you will have no difficulties finding slot machines that do appeal to you directly.
However, many casino sites do offer a range of web browser compatible slot games, and as such if you would prefer playing in your web browser rather than having to download and install an app, then that is exactly what you are going to be able to do.
Just in case you are wondering, there are not going to be any differences regarding the slots available via a downloadable app and instant play web browser compatible slots, regarding the stake levels you can play them for or the pay-out percentages each slot machine has been built and designed around, and you can of course play them completely free of charge and at no risk too.
In fact, one good way to play mobile slot games for free but still have the chance of winning real money, is by taking part in one of the many mobile slot tournaments that many casino sites offer their players.
The aim of a slot tournament is to simply play the tournament slot as quickly as you can do, for your winning pay-outs are turned into tournament points, and the player or players that earn the most points will then win one of the cash prizes attached to those slot playing competitions!
Tips for Playing Android Slot Games
In this next section of my guide to playing Android slot games, what I want to do is to pass onto you several playing hints and tips. But do always keep in mind that all slots have been designed as games of chance and as such you will of course experience winning and losing sessions.
Making an active point of only ever playing slot machines on which a
high pay-out percentage has been attached to them will ensure above everything else, over the long term you will get more of your stakes back as winning pay-outs and will also get some much longer slot playing sessions.
To ensure that you always have plenty of fun and entertainment out of playing Android slots, I would advise you to look out for those that offer more than one bonus game and ideally several bonus features too, as they will be fun and exciting to play off once triggered.
Always be prepared to play a good mix of different slot machines on your Android device, such as classic and 3-reel slots, video slots and even fruit machines and progressive jackpot awarding slot games too, as you never know just which slots are about to pay out.
It will also be advisable for you to set yourself a budget when playing in a real money playing environment as opposed to playing for free, and once you have reached your spending limit then stop playing, but when you win make sur you cash out your winnings rather than continuing playing and risk losing them back!
Frequently Asked Questions
Will I Have Access to New Android Slots?
Much like when you visit a land-based casino or choose to play slot machines in an online playing environment, the minute you switch over to playing on any type of Android device, you are going to have plenty of brand new slot games available to you.
All slot game designers and suppliers are more than aware that more and more slot players are now choosing to play slot games on their mobile devices, and as such as soon as they launch any brand-new ones, they always make them available to such players.
To ensure that you know how to play such slots and what they have to offer by winning pay-outs and any additional bonus games and bonus features, I would advise you spend a moment or two reading through the pay tables attached to each brand new Android mobile slot.
Are Progressive Android Slots Available?
You may be looking for a specific type of slot game to play on your Android device, and one type of slot that has always been hugely popular are those that have one or more progressive jackpots attached to them.
Well, I am happy to let you know that you are indeed going to find no shortage of Android progressive slot games available to you, but just keep in mind that the way they may award their ever rising jackpots can and do vary.
As such, when you do fancy playing any number of such slots, always make a point of finding out how each one awards their jackpots, and if they require you to play for maximum pay-lines or maximum coins, then that is how they should be played to ensure you always have a fair and reasonable chance of winning those progressive jackpots.
Do Android Slots have an Auto Play Option?
Some players may prefer playing off each spin on any slot machines they are playing on their smart phone or tablet device manually, however some players may prefer to simply sit back and watch each spin playing off automatically.
If you are one of the latter type of slot player, then you will need to look out for those slots on which there is an auto play option setting, as by configuring it and then activating that option setting you can play any number of Android slots in a very laid back and leisurely way.
You will of course have the option of choosing just how many spins you play off using that option setting, the stakes you wish to play for and a whole host of other options too, such as the number of pay-lines you want to have in play and you can even set the slot to stop playing automatically when a large valued winning pay-out such as a jackpot spins in, or when a bonus game has been triggered too.
How High are Android Slot Game RTP's?
The savviest slot players are always going to make a beeline to get stuck into playing those slots that have been designed in such a way that players get more of their stake money returned to them over the long term as winning pay-outs.
To ensure that you are only ever playing the better paying slots you will need to discover just how high each slot games RTP (pay-out percentage) has been set, and it will be those that have been designed with an RTP of over 97% that should be the ones that you are playing.
There are some Android slot games that can have pay-out percentages as high as 99% or slightly higher, and the place to look for that information is one the pay tables help files or even on the website of the mobile slot site or mobile casino that you are using the app of.
What Comprises will I have to Make Playing Android Slots?
There was a time when players that set about playing slot games on their Android devices would have to make all manner of different compromises when compared to playing online or even land-based slot machines, however thankfully those days are now long gone.
As such never think that you are going to have access to just a small range of Android device compatible slots or that you will have to play them for high stakes or even be forced to have to put up with low pay-out percentages.
Todays modern day Android slot machines are designed in the exact same way as slot machines that are available in any other playing environment, so you will have access to a huge number of such slots which come with fully configurable staking options and pay-out percentages just as high as those slot games found anywhere else!