Thankfully when you play slot machines these days you are going to find that as long as you tick to playing  them in fully licensed casino sites, venues and apps, then you are guaranteed of being able to access fair and random slot games, and slot machines that give you  very fair chance of winning.
The days when casino owners and operators would rig slot machines in such a way that players had very little chance of winning are long gone, and as such you are always going to have an enjoyable time playing slot machines and do have a fair and reasonable chance of winning when playing at licensed and regulated casinos.
However, one thing that you may be wondering regarding slot machine pay-out percentages is whether casino and slot machines operators have the ability of adjusting the pay-out percentages their slot machines are going to return to players over the long term.
Well, as you are about to discover it will all be down to just where you choose to play real money slot machines as to whether the operator of those gaming machine do have the ability of choosing different pay-out percentages that their slot machines will return to players over their long term play.
Understanding the Importance of RTP's
When playing online slot machines or slot machines that are accessible via a mobile casino app you will often find that the pay-out percentages that each individual slot machine has been designed to return to players will be different.
However, the long term expected pay-out percentage of those types of slot games available in either playing environment will be set in stone and as such the casino operators who have those games available on their gaming platforms have no way what so ever of increasing or decreasing the pay-out percentages on their slot machines.
But when it comes to operators of land-based slot machines found in casinos or in fact in any other gambling establishment, those operators do tend to have the ability of altering and adjusting the long-term paybacks that their slot machines have on offer.
But having said that it is worth remembering that the Gambling Commissions and Gaming Authorities that issue licenses to land based slot machine operators will often have in place rules that stipulate the absolute minimum RTP that a slot machine can be set too.
Therefore, when playing land-based slot machines always keep in mind that even though two slot machines may be identical, the pay-out percentages that they have been set to return to players over the long term could be quite different.
I would also like to point out that the average RTP of most casino slot machines these days are between 94% and 96%, but as mentioned above there could be some slot machines that you come across that have lower RTP's than those average ones.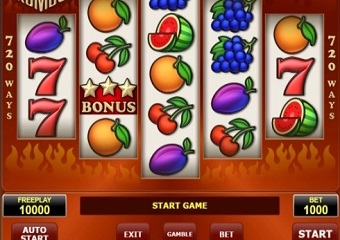 Players need to ensure at all times that the slot machines they do set about playing, much more importantly when they are playing or real money are offering them the very highest paybacks and the best RTP's too, and that will involve players looking up that information.
As for just where you should be looking to discover what the RTP is on any slot machine, well the pay table or any slot game is often where slot game designers put their all-important pay-out percentages on each slot.
However, some casino and slot game designers will put the long term RTP information on the help files attached to online and mobile slots or may hide that information away somewhere on their website instead.
So make sure that above all else when playing at online or mobile casino sites you spend as much time as is needed and required finding out which slots offer by far and away the very highest of pay-out percentages and only ever set about playing those much higher paying slots.
A slot machine is of course completely random, so keep in mind too that even though you may for example choose to play slot machine that has a pay-out percentage of 98%, that doesn't mean that when playing such a slot on any playing session you will achieve an RTP on that session of 98%.
Places to Avoid Playing Slot Machines
Whilst most people are going to be tempted to play slot machines wherever they com across them such as in some of the largest casinos in Las Vegas, which are located on Las Vegas Strip those venues and those in the list below are sadly famed for having very low RTP's attached to each of their available slot machines.
Las Vegas Strip
Airport Departure Lounges
Gas and Service Stations
Bars and Clubs
Quite Places in a Casino
You are also going to find that places such as the departure lounges at airports are going to have slot machines that offer some very low paybacks, and as such they should be the places that you will always be best advised to steer clear of, well for gambling purposes of course.
Gas and service stations and many of the bar top slot machines that do have all manner of slot machines on offer should also be avoided too, for those slot machines can suck the life out of your bankroll due to them not having what any player could very call very high pay-out percentages, to so keep that fact in mind at all times when you are looking for somewhere to play slot machines for real money.
Resources
As slot machines can be found in many different locations these days please do be aware that when you start playing slot machines you should actively make a point of finding out which slots have the best pay-out percentages and stick only to playing those much higher and better paying slot machines.