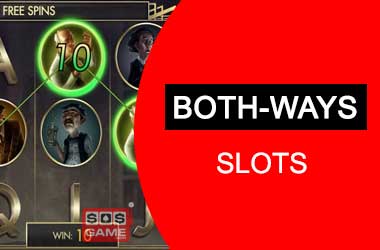 Never be afraid of playing slot games that may be designed in a completely different way to the slots you always seem to play online, for you ever know when playing such slots, you may very quickly warm to them and could of course win big on any spin played off too.
You may be seeking the maximum chances of winning when playing real money slots, and that is of course what all savvy slot players are going to be vey eager to do, and with that in mind allow me to introduce you to a very unique category of slot game that you may have yet to discover online.
Those slot games are known collectively as Both Ways slots, and as their name does somewhat suggest when playing them you can form a winning combination in the standard way, that being by matching up symbols of the same type of a pay-line from left to right across the screen.
However, Both Ways slot machines are also going to let you form winning combinations from right to left across the screen too, so you so have the maximum number of winning chances when playing such slot, so do make a point of checking some of them out when you can do, as when playing them online you may get to very quickly like the additional chances of winning on each spin played off due to that Both Ways playing structure and format.
Bonus Bet to Activate Both Ways to Play
Now, one thing that you are going to have to be aware of, if you do fancy trying you luck on any of the ever growing range of slot games that both online and mobile slot players can play that offer  Both Ways type of playing structure, is that some of those slots require players to place a bonus bet, to have that both ways pays structure in place.
However, having said that, as you will discover in the next section of this guide to both ways slots, there are some slot games that you can play that will not require you to pay any additional side bet or bonus bet to have a both ways playing structure in place.
As for just which slot machines are going to require you to place a bonus bet to enable you to form winning combinations from left to right and from right to left on the screen, one that you may enjoy playing is the Atomic 8's slot, which is one of many great looking and great playing Microgaming designed slot machines.
Players need to click onto the Power Bet button when playing that slot, and whilst they will be charged a bonus bet, they then have the chance of forming winning combinations from left to right and right to left across the screen.
Slots with Both Ways Pays Structures
The slot games that have a standard both ways playing format and structure and therefore are not going to require you to have to place any additional side or bonus bet other than just your chosen stake are certainly going to be worth playing.
Those slots include the Crazy Chameleons which admittedly is a slot offering no bonus games or bonus features, but it does pack a punch so to speak thanks to a high and regularly won 5,000 coin base game jackpot pay-out.
Another fully themed Both Ways paying slot is the Totem Treasure slot game, and if you do manage to spin in all five of its jackpot paying symbols then you will walk off with a jackpot worth a whopping 12,000 coins.
Two other slot games that are going to be worth tracking down and player if you do get the urge to play both ways pays slot machines online are the Genies Gems slot game along with the Winning Wizards slot, for both of them offer a huge 10,000 coin jackpot which could be won on any one single base game spin played off.
Many other slot game designers have at one point in time or another designed Both Ways slots, so there is a very good chance that you will come across even more of them dependent of course on just which casino sites or casino apps you are using.