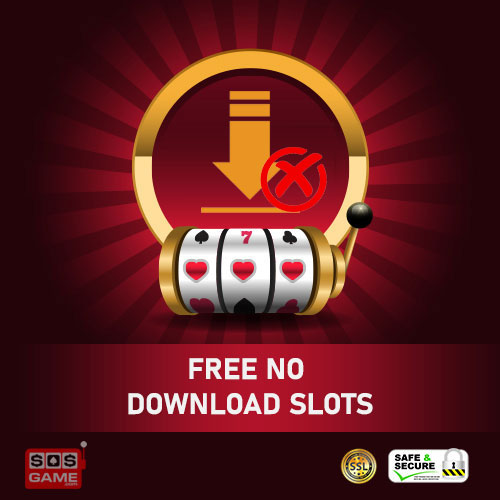 If you're looking for a way to play free slot machine games without downloading or registration, you've come to the right page.
Here, you'll find 8,000+ popular slots — all available free of charge. The best thing is that you can play them directly in your browser, meaning there's no need to register in an online casino or download anything. It's as simple as it sounds: select a game, wait for it to load, and start spinning the reels.
Feel free to filter our free slots no download and pick the best one for you. If you're not sure which game suits you, don't worry. We prepared a detailed guide to free slots no download that you can read by scrolling below.
Free Slots No Download No Registration — How They Work
All free slots no download have one thing in common: you don't have to download them. However, if you have no experience playing free slots, you're probably wondering how they operate in this mode.
Namely, when you load a free slot in your browser, you'll receive fake funds. In other words, you don't have to deposit anything (the slots wouldn't be free in that case). The slot automatically loads a certain amount of "demo" money for you, and you can use those funds to place wagers.
The main difference between no download free slots and real-money slots is that you won't deal with real money at all when playing for free. It follows that you won't be able to receive real-money prizes either, which means that the rewards you get if your reels make a winning combination will also come in the form of demo money, which will be added to your balance.
Download vs. No Download Free Slots — What's the Difference?
By now, you're probably wondering what the difference is between the free slots that need to be downloaded and those that don't. Simply put, no download free slot machines are more accessible as you don't need to take additional steps to play them. The slots that need to be downloaded usually require signing up for an online casino, downloading the casino software, installing it on your device, and logging in. This may seem like wasting time to anyone who just wants to spin some reels in their pastime.
The good news is that most free online slots are browser-based. They are built with HTML5 technology, meaning they are adapted to play in the browser and load fast. Moreover, HTML5 technology means the slots don't consume too much data and can quickly adapt to mobile browsers.
How to Pick the Free Slots No Download Games for You
So, you've loaded our free slots no download page, and now you're facing the following problem — which slot to play. You can try them all before finding the one that meets your needs, and there's nothing wrong with that approach, but it will take too much of your time, as we offer thousands of free slots without download or registration.
Therefore, it doesn't hurt to learn more about how slots are divided and categorized on our site. This will help you understand them better and quickly navigate to the type of slot you like the most.
Provider

First, select the providers you want to include in the slots list. You can expand the list of providers to the left and check the ones you want to be included on the right.
If this list of providers is confusing to you, we recommend starting with a few industry-leading providers, such as NetEnt or Microgaming. Each player has a different taste regarding free slots, so if you don't like games from these providers, check out other popular options.
If this is still not the best way for you to filter slots, you can filter them based on other characteristics, such as the number of paylines, reels, and special features.
Paylines

Paylines play an essential role in slots and often dictate the experience of spinning the reels. So, what are paylines? Essentially, they are the imaginary horizontal lines on the grid. If you land a symbol combo on one of those paylines, you'll get a prize.
The first mechanical slots had only one payline, but slots evolved over time, with many electronic games featuring more than ten paylines.
All hell broke loose when online slots took over, as slot creators started experimenting with other pay concepts besides paylines, such as payways or cluster pays.
The most common type of slot usually features between 10 and 50 paylines. More reels equal more paylines, and players are sometimes given an option to adjust the number of lines they want to bet on before spinning the reels.
Some slots have hundreds of paylines. In this case, we're talking about lines that also pay right to left (traditional slots only pay left to right), top to bottom, and bottom to top.
You'll notice that we also included some huge numbers, such as 117,649 pay ways. How is that even possible? Well, many slots nowadays have the so-called Megaways mechanic. This also affects the number of rows per reel on every spin, making it technically possible to create thousands of combinations.
There are also cluster pay slots resembling games such as Candy Crush. They have massive grids, and you get paid whenever a group of identical symbols land next to each other.
We recommend checking out some traditional payline options and then trying Megaways and cluster pay slots to see which ones are better for you.
Reels

Reels are the main component of every slot. Old slots used to have three reels, and they are nowadays also very popular and usually listed as classic slots. However, the most frequent structure for slots in online casinos nowadays is 5×3. In other words, they have five reels, and each is three symbols high.
In short, slots with five and three reels are the most popular options among players. However, some slot developers wanted to experiment with reels, expanding games to six, seven, eight, or even ten reels.
Moreover, many slots with six or more reels usually have additional features that make them even more original. Such slots are not as common as five- and three-reelers, but they are exciting to play.
Special Features
We understand if reels and paylines are a bit confusing to you. After all, you probably just want to have fun while playing free slots no download without worrying too much about their structure.
Still, you should pay attention to a couple of features, whether they're available, and how they work. You'll notice that you can filter slots based on the autoplay option, bonus game, free spins, multipliers, progressive jackpots, scatters and wilds. Let's explore what each of these means to help you find and play free casino slot games for fun that are perfect for you.
Autoplay Option

The vast majority of slots nowadays feature the autoplay option, so if you check this box, the chances are only a handful of games will be excluded from the list. So, what is the autoplay option exactly?
It allows you to set the number of rounds you want to be played automatically without you clicking the Spin button each time. Different providers have different autoplay functionalities. For example, you can set the exact number of auto spins or the conditions when the auto spins should stop.
Free slot machine games without downloading or registration also allow using the autoplay feature, and we recommend exploring games from different providers to help you understand autoplay's potential.
Bonus Game

A bonus game is an additional game that you can trigger inside the slot you're playing. These are usually simple luck-based games that can help you win better prizes. For example, if a bonus game is triggered, the player gets to pick one of the several coins to reveal a potential reward. Wheels of fortune are also sometimes added as bonus games.
Nowadays, developers and designers use their creativity to make slots with unique bonus games and make them more appealing and entertaining to players.
Free Spins

The free spins feature is the most important and the most popular bonus feature in online slots, including in free slots no download. In most cases, to trigger free spins, you'll need to land a certain number of bonus symbols on the reels, and many slots award more spins if you land more bonus symbols.
Once the free spins round starts, you'll get spins free of charge. You won't have to spend additional demo money during this feature with free slots.
The best thing about free spins is that they often come with more benefits and increase players' chances of creating big wins.
If you check the free spins box, all free slots no download or registration that have this feature will remain in the list, and all other games without free spins will be excluded.
Multiplier

Sometimes, slots add multipliers to your winnings. For example, if you win $100 with an x3 multiplier, you'll win $300. Multipliers can come in various shapes and sizes. For instance, they can be part of a symbol you landed on the reels, and if this symbol is part of the winning combination, it will multiply your prize.
Not all slots include multipliers, so we decided to include this filter as well and help you only list slots that have some form of a multiplier.
Progressive Jackpot

Many slot players who like real-money slots only play progressive jackpot games. In progressive jackpots, the jackpot isn't fixed. Instead, every player who makes a bet contributes a small portion of the pot, which will continue increasing as long as there aren't any lucky winners. Once somebody wins a progressive jackpot, it resets to the starting amount and starts going up again.
If you're after playing free slots no download no registration, progressive jackpots won't matter much, as you cannot receive real-money prizes during the free play mode. In many cases, progressive jackpot slots aren't even available in the free-play mode.
However, you'll find popular options on our site in case you want to switch to real-money play and take a shot at some of the largest prizes in the world of online casino games.
Scatter Symbol

The scatter is a symbol that doesn't have to be part of a payline to help you make a winning combo. In other words, it can be spread all over the grid, and you'll still receive a prize. You still have to land a certain number of them to trigger the reward (usually three or more).
In many online slots, the scatter is also the bonus symbol that triggers the bonus game or the free spins round. The most common process in online slots is that three or more scatters start the free spins round. In some cases, landing scatters during free spins will extend the round.
By selecting the scatter symbol option, the site will filter all free slots no download that feature it.
Wild Symbol

The wild, also known as the substitute, is the most popular special symbol in online slots and is present in many online games, including many free slots no download. Simply put, the wild can substitute any other symbol on the reels and help you create a winning combo. The only symbols the wild cannot replace are usually other special symbols such as bonus symbols and scatters.
How to Play Free Slot Machine Games Without Downloading or Registration
We prepared a short walkthrough if you're interested in playing free slots that require no download or registration. Mind you, if you have at least some experience playing slots, the following guide might seem familiar, as we created it for total beginners.
Pick a free online slot from our list — No free slots on this page require downloads or registration.
Load the game in your browser — Slots are light games and usually take up to a couple of seconds to load.
Set the betting amount — You'll receive demo money and need to set how much you want to stake per bet. If the slot offers non-fixed paylines, you must select the number of paylines you want to bet on.
Spin the reels and wait for the outcome — If you're lucky, the reels will form a winning combination on one of the paylines.
Please remember that if you make a winning spin, you'll still receive fake money when playing free slots. The only way to get real prizes is to switch to real-money play and make a wager using real money.
Benefits of Playing Free Slots No Download or Registration on Our Site
Here are some of the main perks you'll get if you decide to play free slots that require no download or no registration.
Load games in seconds — This one is kind of obvious. You don't need to download anything or open an account in an online casino, so just pick an online slot and play it as long as you want.
Explore games for free — If your goal is to start playing slots for real money at one point, you can find the slots you like the most by first trying them free of charge.
Save hard drive space — Even though slots aren't big games, installing many games on your device can take up a lot of space.
Learn to play slots — If you're new to online video slots, you can explore various rules, bonuses, features, and more by playing for free.
Free Slots Without Download or Registration — Tips and Tricks for Playing
Here is some valuable advice to help you improve your experience of playing free online slots.
Learn about the RTP — RTP stands for return to player and determines the overall payout. Even though you won't use real money, you should still aim to play slots with high RTP.
Learn about the slots' volatility — Low-volatility games drop prizes often, but they aren't that lucrative. High-volatility games do the opposite. Of course, there are medium-volatility games that balance the two. Try various free slots with different volatility to see which option suits you best.
Don't get carried away — Even though you'll play slots for free, it's important to set some limits and not spend hours spinning reels.
Explore as many games as possible — Since you have an opportunity to play games for free, explore many titles, as that will help you develop a taste for particular slots, which means you'll know what to play if you decide to use real money.
Switching From Free Casino Slot Games for Fun No Download to Real-Money Slots
If you decide that you want to try playing for real money, here's what you need to do.
Select one of the featured real-money online casinos on SOS Game — All featured casinos have been reviewed by legal and gambling experts, ensuring maximum security, safety, and trustworthiness.
Open an account in the casino — This doesn't take more than five minutes to complete, as you'll have to provide your email, username, password, and more. You might also need to verify your identity.
Deposit to the casino of your choice — Use one of the available deposit options to make a deposit.
Claim the welcome bonus — Many online casinos also offer a welcome bonus on your first deposit, so make sure to claim it if it's available to kickstart your slots journey.
Have fun!
How to Play Free Slots No Download on Your Mobile Device
To play free slots from our site on your mobile, you just need to load the site in your mobile browser, select a game, and play. In other words, the process is no different from playing free slots no download on your desktop or laptop device.
Most slots are built with HTML5 technology, meaning they are adapted to small screens and can be played on the go.
FAQ
Let's take a look at some of the most common questions regarding Free Slots No Download.
How are free slots no download different from slots that are downloaded?
No download slots are loaded and played from your browser, meaning you don't have to download and install them onto your device.

Do I have to open an account to play free slots with no download?
Not at all. All you need to do is pick one of the available video slots on our site and load it in your browser to start playing. However, if you decide to play for real money, you'll have to register in a casino offering the slot you want to play and make a deposit.
Can I win real money when playing free slots?
Unfortunately, that's not possible. The only way to start winning real money is to make a real-money wager before spinning the reels. However, to do that, you'll have to find a suitable online casino, open an account, and make a deposit.
Where can I find the best free casino slots for fun no download?
You don't have to search anymore, as our page offers one of the most comprehensive online video slot collections on the internet. All featured slots are free, and you don't have to download any of them to start playing. Just load them in your browser and have fun.
Can I switch to real-money play if I don't want to play for fun anymore?
Yes, you can. If you want to play for real money, pick one of the available casinos featured on our site and open an account to become a registered member. After that, use one of the deposit options to load the funds to your account balance and pick a real-money slot you want to play.