Wild Rose Games Slots - Play for Free, Best Slot Casinos & Bonuses
Play Wild Rose Games Slots for Free
General Information
info@wildrose-games.com
Email Address
+55 48 9 9624 2426
Phone Number
Mobile – Online Instant Play
Platforms
It is always good to see some of the more recent entrants into the slot game design marketplace doing so well, and one company whose games that you are likely to come across as many online and mobile casino sites is Wild Rose Games.
What makes their games so unique is that they have been built from the ground up and are not simply clones of other slot games, and as such players are guaranteed of finding plenty of slot machines that are 100% unique and highly playable ones too.
Wild Rose Games Management Team
Franciani Roos Bordignon – The Founder and CEO of Wild Rose Games is Franciani Roos Bordignon and her vision of becoming a force to be reckoned with in the online and mobile game design marketplace is becoming reality as the slots her company have so far designed have been embraced by players and casino site operators alike.
Benny Davidovich – Another Founder who is also tasked with being the Creative Director of Wild Rose Games is Benny Davidovich, and the passion really does shine through in the design of the slot games the company is launching quite frequently now.
Rafael Roos Bordignon – The CTO of Wild Rose Games is Rafael Roos Bordignon, and he completes the dream team that is leading the company forward and at a steady pace.
High Tech Slot Games
No two Wild Rose Games slots are the same, and as such what you are going to find is that they will all come with their own unique themes, staking and playing formats and structures and they do of course offer a range on unique reel symbols, bonus games and base game bonus features too.
The sound effects attached to each of their slot games do bring them alive, and the graphics and animations do also add another level of entertainment and excitement to their respective playing structures too.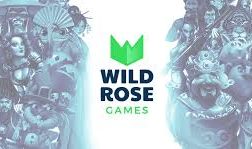 Make no mistake about it though, if you are a very avid slot player you are going to have an absolute ball playing their slot games and will have plenty of roller coaster slot playing session too.
With a good mix of low, medium and high variance slots, you are also going to be able to find a slot that ticks all the right boxes on your own personal checklist of wants and demands when playing their range of slots.
Online and Mobile Slots
It can often be the case that some slot game designers will design their mobile slots in a  very different way than the same versions of those slots that are available via an online gaming platform, so players may find the mobile versions of some slot games are not as fun to play as the online ones.
That is something hat will not be the case when playing the Wild Rose Games slot games, for their online slots have been designed to play and pay in exactly the same way as their mobile slot games do and vice versa, so it doesn't really matter how you chose to access their slot games you will be assured of having a very enjoyable time.
Do also take a good look at the option settings that are attached to each slot game too, as that way you will be able to tailor your own unique gaming experience and that in turn will ensure you have a very enjoyable item when playing their range of slots, and plenty of casino sites and casino apps are now adding them to their gamine platforms, so you should find plenty of sites and apps to play their games at and on.
Bonus Games and Bonus Features
There is no doubt in my mind that every single slot player is going to have their own ideas of just what makes a slot machine highly playable and one that they will always make something of a beeline to play when they are in a slot game playing frame of mind.
That is why the development team over at Wild Rose Games have designed each of their slot games with some unique base game features, and some potentially huge paying bonus game feature rounds too.
What I would urge anyone that does fancy giving some of their video slots some play time, is to first sample the delights of playing them for free and at no risk, for that way you can get a good feel for the way those slot machines play and pay and can then pick and choose just which ones if any you would like playing for real money.
Each slot is fully configurable regarding the coin and value settings that they can be played for when players set about playing them for real money so they are going to be affordable slots to play when you do configure them for a stake level you can afford to play them for.
Verdict
As each of the Wild Rose Games slot machines have been designed to deliver a completely different type of slot playing experience, I do think that everybody that players team is going to have an enjoyable time.
There are of course no guarantees that you will have a winning session when playing their slots but it does have to be noted that their respective slot game RTP's have ben set high, so you will at least get plenty of play time over the long term out of your bankroll, and you should be able to recycle your bankroll a fair number of times when playing any of their slot games too, which is always good to know of course.