NetGaming Slots - Play for Free, Best Slot Casinos & Bonuses
Play NetGaming Slots for Free
General Information
London, Malta, India
Location
info@netgaming.com
Email Address
Mobile – Online Instant Play
Platforms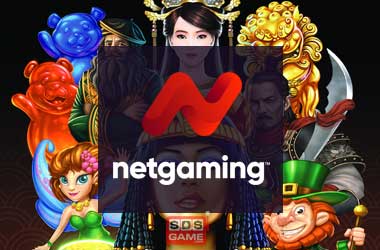 As one of the newer online software providers, it was up to our team to take a look into the background and future plans of the NetGaming brand. Since its launch, it has managed to generate quite a lot of appeal, and that's quite understandable when you see the group of slots that it has already released.
Things started out for the NetGaming brand in 2018, with the company officially being born so to speak, in April of that year. Operations would commence from the first office in London in July of 2018, before the main development office launched in August.
Yet, it wasn't until February of 2019 that the company officially launched and released its Phase One games, and that took place at the much-respected ICE event in London.
It didn't take long for it to apply for licences from the UK, Malta and Curacao gambling jurisdictions, either.
New games would then be released at G2E Asia 2019, which acted as the second phase of the NetGaming launch, and then in July of 2019, the company moved forward with the creation and release of its first three table games to compliment the slots.
Visiting the company website, you'll see that NetGaming has definitely put a lot of effort and thought into becoming a high-quality and professional brand. From the colour scheme on display through to the ease of navigation, there's something quite attractive about the website, despite its minimalist approach to information.
Now, while that's all quite an impressive set of accolades to achieve within the space of just over a year, NetGaming still has plenty more to offer. The future looks bright for this new brand, especially with the facts that Pallavi Deshmukh is operating as its CEO and Ujjwal Saini as CTO. Together, they bring experience from working with top-quality brands like Netent, GVC Holdings, Pragmatic Play and Cozy Games, to name just a few. So, what else can you expect from the NetGaming developer?
Exciting Releases Backed by Trustworthy Software
Even though NetGaming is a new software developer on the scene, that doesn't mean that it lacks in any way. In fact, the company has made sure that its online slots and other games utilise the very best technology to be able to impress the gaming population. It's also for this reason that the brand's games come in various languages and also enable casinos to offer them in multiple different currencies alongside.
The NetGaming website states that it's a company which is "Passionate about Playtime", and that it intends to provide players with the best kind of entertainment experience possible. Looking at its games will give you all the information that this is certainly something that has been achieved so far.
Additionally, the provider says that during the development stage, it explores new concepts and themes before bringing various characters to life within its games – something which it claims is the most fun part about designing them. All in all, NetGaming states that it is obsessed with beautiful game design, and that's something which our team can wholeheartedly verify to the maximum.
And not only that, but all of the NetGaming titles are fully audited and crafted to provide a fair gaming experience to players. This is why they all have an RTP rate of around 95% to 97%, resulting in gamers being able to get a good amount of gameplay from whichever slot or table game they choose.
Slots Leads the Way
It's quite common for online developers to place quite the solid focus on providing slots games. They are, after all, one of the most popular types of casino games to exist. And this is something that NetGaming is all too well aware of, resulting in its selection of slots standing at nine strong so far.
As our team discovered while reviewing the company, games such as Warriors Quest exist within the portfolio of the developer. This one offers a layout consisting of five reels and a 3x4x5x4x3 set of rows alongside. It's also got 243 ways for you to win, with both re-spins and free spins appearing within.
There's also Candy Burst from NetGaming, which brings all the colours and sugary sweetness of those candies to your screen. You'll get six reels to spin in this game, with Sticky Win Re-Spins and Wild Spawn feature also appearing within it. Wins are formed by bringing clusters of nine or more of the same symbol into view, making this one quite unique in the catalogue of slots.
And if you'd prefer to indulge in a bit of Irish luck, then Leprechauns Loot is the one for you. With an RTP rate of 95.74% and a medium volatility level, this one will fill you with all the charms of the Emerald Island's folklore. It's also got two bonus features for you to trigger and play through as well!
Additional slot games are present in the shape of Wrath of the Dragons, Age of DaVinci and Treasures of Egypt, while others are coming soon, such as Master of Fortune and Guardians of Prosperity.
Ideally Suited Games
It's true that there aren't so many games within the NetGaming lobby, but the ones that do exist within have had a lot of time spent on them. The great thing is that because they're not only set up for use with standard fiat currencies, but cryptocurrencies as well, they'll cater to audiences all over the world.
Not only that, but the different languages that they're available in and the fact that NetGaming holds several licences alongside ensure that they can easily be picked up by casinos worldwide. This should help with the company gaining traction in several jurisdictions.
What Did We Think of the Games?
NetGaming is still new to the scene as a company, but it's certainly made the right moves towards presenting itself as a professional and well-organised brand. Its game lobby is fairly small at the moment, but it's left itself a lot of room to expand with new and innovative titles as time goes on.
Not that it needs to be said, but it seems as though NetGaming has a bright outlook as it marches ahead towards a future filled with more casino games. And be they table games, slots or anything else, you can pretty much guarantee that this is one developer that won't be sleeping on the job!